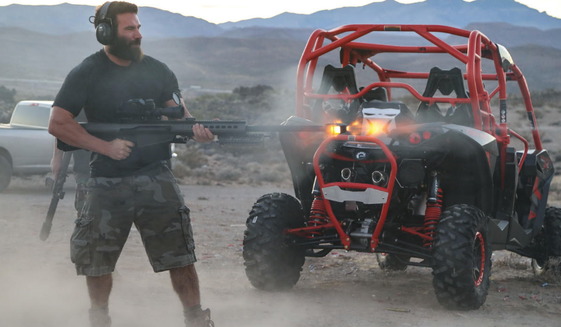 Instagram sensation Dan Bilzerian received some bad news when he returned to his West Hollywood mansion after a September break-in — several of his guns were gone.
But it wasn't burglars who had taken the firearms, it was the Los Angeles Police Department.
For two months after the break-in, Mr. Bilzerian, a professional poker player and gun rights champion, says police inexplicably continued to keep the nine firearms under lock and key without a warrant. When the eight pistols and one rifle were returned to their owner about a week ago, all the ammunition for the firearms was missing, raising questions about the LAPD's protocol for seizing firearms.
The responding officers confiscated nine firearms supposedly under the premise that they wanted to secure the home in case the burglars attempted a second break-in, Mr. Bilzerian said. But strangely, the officers left behind an arsenal of shotguns and a high-powered semiautomatic carbine rifle like the ones used by special operations troops.
Attorney Joseph A. Silvoso III, a California gun law expert at the law firm Michel & Associates, said he has seen numerous incidents in which police responding to a crime scene confiscate guns without a warrant, either talking victims into permitting the seizure or declaring it was necessary for public welfare or personal safety.
Mr. Bilzerian, who has advocated for Second Amendment rights including in a column in The Washington Times, said his experience with the LAPDhas only furthered his dislike of the "aggressive and unconstitutional anti-gun stance California has taken with its law-abiding citizens."
Tags: dan bilzerian, firearms, guns, los angeles